Every Nation Kindred Tongue and People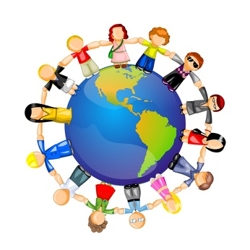 Revelation 14:6 "And I saw another angel fly in the midst of heaven, having the everlasting gospel to preach unto them that dwell on the earth, and to every nation, and kindred, and tongue and people"
I was born in Sheffield of Jamaican parents and grew up in the Burngreave area, In the 60's and early 70's the area was predominately made up of white English, and a growing percentage of Jamaican, So at School I had both black and white friends.
After leaving school I went to live in Rotherham, which again was predominately white with less than 20 non white people in the entire town, from Jamaica, Malaysia, Mauritius, the Seychelles and India, all of who worked at the hospital.
I left Rotherham in 1984 to live in Leicester and that was where my eyes were opened to large numbers o f different nations, there were Ugandan Asians, Indians, Irish, Malaysians, Ceylon, and all of the smaller Caribbean Islands that I had only heard of on Miss World, like Antigua, St Kitts, Nevis, and also that was where I met my first person from Zimbabwe Stella Tawanei was my mentor and we became a very good friend of mine.
Stella and I shared an experience one night on duty, I was doing the initial assessment of a woman who came onto the labour ward and her husband said that he didn't want me to look after his wife, I thought that it was because I was a Student Midwife and went to call Stella, when Stella came in he said: "I don't want either of you looking after my wife." We quickly realised that it was due to the colour of our skin and not my inexperience.
Stella informed him that he could allow me to continue care, or he would have to leave the premises, Stella called the Nursing officer who on that particular night happened to be from the Caribbean Island of Nevis. The husband was fuming and whilst his wife was puffing and panting in pain said. "I thought I was in Leicester and not darkest Africa". The Nursing Officer repeated what Stella had said and went to
call the doctor for them to sign the 'Discharge Against Medical Advice' form, the doctor who came into the room was from Nigeria......
By this time, it was too late for the woman to be moved, and I delivered that baby boy with Stella in deadly silence, much to the disdain of the husband.
I often wonder if the child followed in his father's footstep or grew to embrace multi-cultural Leicester.
I left Leicester to live in the Middle East and that was like the united nations, with people who became my friends from, Australia, new Zealand, Sweden, Trinidad, Jordan, Palestine, Egypt, India, Pakistan, Ghana, America, Philippines, Burundi, Oman and Grenada.
I enjoyed learning about the different cultures, sampling different foods, learning different languages, religions and customs, wearing different clothes and travelling to different countries with my new found friends.
Shortly after returning to England, I became a member of this church, at that time the membership was very small and was again largely Jamaicans but today, I have really good friends from, Rawanda, Zambia, Kenya, Philippines, Jamaica, Barbados, England, Ireland, Zimbabwe and other countries. People that I can call upon day or night, people that I can say more than happy Sabbath to.
The Bible says "Do not despise these small beginnings for the lord rejoices to see the work begin..." (Zechariah 4:10 NLT) and looking back I can see God's leading throughout my life giving me the increasing experience and love of people from different countries and cultures.
We are a people who are heaven bound, in heaven there will be every nation, kindred, tongues and people, there will not be one group of people here and one group there, we will all be united as citizens of God's kingdom.
The bottom line is that: "When the saints are drawn close to Christ, they must of necessity be drawn close to each other, we cannot love God and yet fail to love our brethren".
Let's make every Sabbath an International day of fellowship, a taste of heaven, preparing us for eternity with King Jesus and every nation, kindred, tongue and people.
--- by Val Grossett