SheffieldCHIP
The Sheffield Coronary Heart Improvement Project (CHIP) comprises of evening seminars that run for 3 or 4 nights a week (from 7pm to 9pm) for approximately five weeks. These seminars encourage participants and remind team members to take charge of their health by daily exercise, eating plant based foods, drinking water, getting adequate sunlight, fresh air, rest and also addressing emotional health by looking at social supports, forgiveness and self esteem.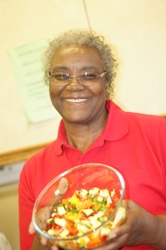 Each night the programme includes video presentations from Dr Hans Diehl, live health presentations, and mouth watering food samples. Commenting on the food one participant has said: "after eating such tasty foods I don't feel I need meat..."
Exercise sessions are also scheduled within the seminars. Sticking to a daily exercise programme is the strongest indicator that participants will maintain the new lifestyle, so participants are encouraged to make use of their pedometers by walking daily. Each evening, during the seminar, miles walked or exercise taken are collated and plotted onto a map. And at the end of the programme, the total mileage is plotted onto a map, and the virtual destination, reflective of the cumulative miles, is shown.
At the end of five weeks, the results in the participants are plain for all to see. Healthy glowing complexions, weight reduction and a proud sense of achievement are some of the results. The results from the final health screen attest to the fact that blood sugars, blood pressures and blood cholesterol have been significantly reduced.
The graduation ceremony held at the end of the programme is one of the glamorous highlights of the programme. Participants invite family and friends to this occasion and everyone shares in a healthy and wholesome meal.
The graduation ceremony does not mark the end of the programme as monthly alumni meetings are held. During the alumni meeting former CHIP graduates meet to share ideas and encourage and support each other.
For more information on SheffieldCHIP, please contact Val Grosset on Tel:07412 661862 or get in contact with us through our website.
---
Former Participants comments
A friend of one of the graduates remarked to her: "How comes you are so energetic.... I want some of what you have".
"I would recommend this programme to everyone, it was professionally delivered and everyone was so loving and friendly... this is one team I would be happy to work with"
"after a week of drinking water my headaches have gone ...... [and] I'm not shouting at the kids as I used to".